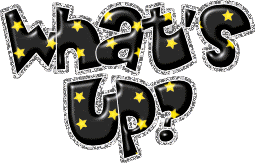 Hey all, hope your all fine and dandy x Hope you like the new look, I've spruced up the thing a bit lol....make yourselves comfortable your very welcome ;)
Sorry I've not been doing the rounds the last couple of days, bit slack of me!! No real excuses but hey...................
So what's new in my part of the world? Well the sink is still blocked!! I've been determined to unblock it myself, even to the stage of looking it up on the web and found a great site which shows me which bit I need to get too to sort it out etc. Figured I shouldn't do that so Friday I finally rang the agent!! I was very nice started off the call by wishing him a happy new year :o) He said he'd get onto the plumber and that was that...........have heard nothing since lol Still that's not that long ago is it and I shouldn't be impatient!! Heard it gurgling so it's definitely still there :(
Work is still work and crap.............lol
Did well with the exercise last week, did my excercise video twice :o) Planning which one to go with this week. It's nice to have a choice so you don't get bored. lol Didn't do too bad on the eating healthy either. Just gotta keep it going and that's the main thing.
This weekend I've been to Trina's, as you know it was her birthday last Monday. We went to the zoo in Paignton. Unfortunately didn't see the red panda or the cheetah but enjoyed it none the less. Definitely recommend for a visit. I shall post the pics I took, if i can work out how too on here ;) later in the week x


Just testing ;)



We got back to theirs and pretty much recreated new years eve, nibbles galore, Mario Kart on the Wii and Guitar Hero 4 :o) I didn't sing this time on guitar hero but played bass, think I may have found my calling lol................Not to blow my own trumpet ;)





Today we watched Prince Caspian (love that film) and had a meal in the Harvester not far from here. I had tuna steak with rice and salsa stuff, it was nice :o) All in all a good weekend and she liked her pressies which was good. I got her a small set of Paddington bear books and a Jemima Puddleduck statue. I found out that she liked this stuff last year. Used to good advantage lol





I'm very, very happy Dancing on Ice is back. The one show I will actually champion if I need to lol............Michael to win :o) For those of you who are watching, what do you think? The boys were good weren't they?





Did i tell you in my last post that Trina and I are going to our first gig of the year in a couple of weeks? Well the
SAS band
are playing at one of the venues in the O2 and Mr Roger Taylor *yum* is playing too :o) He'll probably only do one or two songs but after last years Cosmos Rocks tour I said that we can't miss out on any opportunity to see him. Plus our mate Sheila is kindly putting us up. YAY shall be good fun I haven't been to an SAS concert in years!!! Check out the link if you wanna know more x
Unfortunately I am still awaiting my brother to come round and sort out my computer. I sent him a text the other day asking when he's coming and he's ignored me...........why do I feel like saying typical bloke (no offence readers ;) but seriously................. I think I shall have to bug him on facebook lol.
Well not sure what else to say................Hope you all have a good week x Looks like from my weather thingy I'm in for heavy rain during the walk to work tomorrow ~ joy!!!
Laters xx